How Nepal ignored threat of imminent earthquake
7.9 Every year Nepal observes January 16 as National Earthquake Safety Day. It is ussually a sober occasion when some non-government organisations and a few government departments take out a rally and circulate leaflets on safety measures. But there was never a public acceptance that a great earthquake of the 1934 magnitude would strike.
On the other hand, hardly known in public sphere, a group of scientists and a few newspaper and magazines always warned of serious threats of an earthquake like that of 1934. The 7.9 magnitude earthquake that ravaged the country Saturday is, though, a little less in magnitude than the one in 1934 (8.4 Richter), it is the biggest since then.
On July 28, 2014, one of the few seismologists who have been warning of a return of a 1934-scale earthquake was widely quoted in the media with a definitive warning. "Personally, I'm terrified. I've worked in the aftermath of some of the world's biggest earthquakes – Haiti, Bam, Kashmir and Gujarat – but this is going to be far worse," said Moira Reddick, coordinator of the Nepal Risk Reduction Consortium, based in Kathmandu, while speaking to media. "It gives me nightmares. I have a disaster preparedness kit at the bottom of my garden – a shovel to dig people out, water, tinned food, a battery radio and so on. Other people think I'm crazy but I'm envisaging that I might have to house 30 people in my garden."
Seismologists like him have been studying the faultline in Nepal that is the epicenter of many earthquakes like the current one. The faultline almost runs below and along with the country's busy Mahendra Highway.
A series of scientific studies of this faultline have adequately warned that Nepal was expecting a big earthquake. Going by past history, Nepal is expected to have a 1934 range earthquake every 80 years.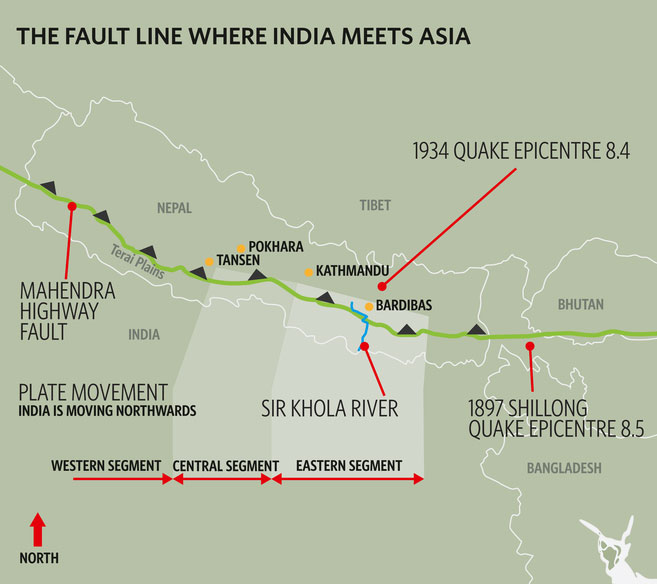 But as it is said earthquake does not kill, lack of preparedness for it does. For example, Kathmandu valley is made of soft sediments through which seismic waves don't pass quickly, thus causing more shocks and causing damages. It is located on the site of a prehistoric lake. "They magnify the shaking of an earthquake as much as eight times," media quoted Lok Bijaya Adhikari, a seismologist at the National Seismological Centre in Kathmandu.
But despite this scientific fact, the valley has hardly taken into consideration this fact while expanding. Kathmandu has grown and expanded into a congested and dense concrete jungle. Though there are official building codes to make them quake-resistant, there is hardly any adherence to it. After a major earthquake in 1988, Nepal for the first time started focusing on building codes and also took up scientific research on understanding the country's earthquake vulnerabilities. In many public functions to mark the earthquake safety day the General secretary of National Society for Earthquake Technology-Nepal (NSET) Amod Mani Dixit has been making this panic statement: "Despite making certain improvements in safety against earthquakes, Kathmandu valley's more than 60 percent houses will be destroyed in case of a major quake. There will be over 100,000 deaths and 300,000 injuries." Despite such specific calculation, and the recent experience of earthquake of 2011, the country first ignored the warnings and also lacked the capacity to prepare and make provisions for such big eventuality. (Down to Earth)
Study
Earthquake source characteristics along the arcuate Himalayan belt: Geodynamic implications