War. US urged to clarify depleted uranium policy as A-10 gunships deploy to the Middle East.
Weapons. 23 September 2014. The Pentagon has announced plans to send 12 A-10 gunships from the 122nd Fighter Wing to an unspecified location in the Middle East as part of its wider campaign against Islamic State (IS) fighters. The aircraft, which can fire 30mm DU cannon rounds, are designed for use in close air support of grounds troops. However President Obama has given assurances that US troops will not be involved in ground combat operations during the conflict.
In June, Iraq called for a global treaty ban on DU, highlighting the need for technical assistance for clearance and urging the UN and member states to act with more urgency on the issue. The renewed use of DU on its territory when contamination from 1991 and 2003 remains unresolved would be politically problematic. ICBUW strongly urges the US not to use DU and to state publicly that it will not do so. The arrival of the A-10s in the Middle East will coincide with debate over a fifth UN General Assembly resolution expressing concern over DU weapons.
With the aircraft not due in the Middle East until mid-October, there is an opportunity for US campaigners to seek clarification on whether DU will be used. Those in countries forming part of the new coalition, such as France and the UK, should ask their governments whether they endorse any use of DU by US forces in the conflict.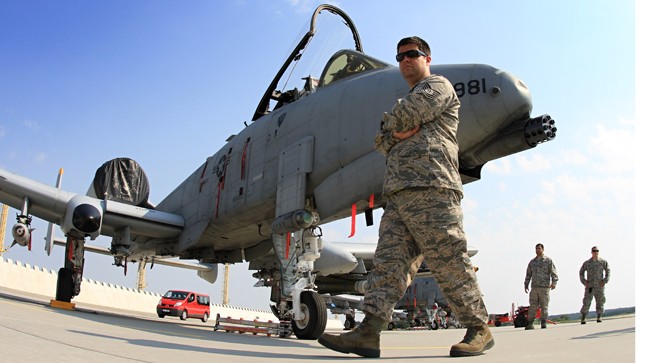 US DU usage policy unclear
The deployment may provide a new test for US policy on DU use – namely when does it view its use acceptable or unacceptable. Following the short-lived use of A-10s in Libya in 2011, the US claimed that no DU had been used – although reserved the right to use it in future. Concern over the potential use of DU in Libya had been raised by parliamentarians in a number of NATO countries, including the UK and Belgium. Analysts expressed surprise at the US decision, as tackling Libya's armoured vehicles seemed like a logical use for the A-10, a role for which the US claims DU ammunition is critically important. This remains the political line although information revealed earlier this year demonstrated that DU was also used against non-armoured targets, unmounted troops and buildings in Iraq in 2003.
A-10 aircraft fire 30mm PGU-14 armour piercing incendiary DU ammunition from a cannon fitted beneath the cockpit. The GAU-8 cannon normally fires a standard combat mixture of PGU-14 and PGU-13 high explosive rounds, which are pre-loaded on an ammunition belt before the plane takes off. The A-10 has been responsible for more DU contamination than any other platform. In the case of Libya, and if the US statement was correct, then it was the first public acknowledgement by the US that A-10s were being loaded only with the high explosive PGU-13 rounds during combat of this type, although the practice has previously been identified in photographs of A-10 units in Afghanistan.
At issue is therefore whether the US has set itself a voluntary code of conduct that determines whether DU use is acceptable or not in any given conflict. Perhaps it is cost/benefit analysis of perceived military necessity versus impact on public relations? The calculation underlines the continuing global stigmatisation of the weapons, which is also reflected in the increasingly large majorities voting in favour of DU resolutions at the UN General Assembly. It is highly likely that, given the level of concern about the weapons in the region, any use of DU by the US would be a propaganda victory for IS. (ICBUW)