NewTech: Airbag for cyclists.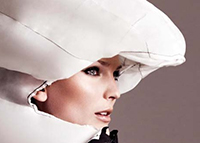 NewTech. Hövding is the result of an intensive research and development process that started in 2005. Throughout the years the company has developed a unique expertise in airbag helmet technology. Thousands of cycling accidents were re-enacted and compared to hundreds of hours of normal cycling with Hövding.
The unique airbag was developed in collaboration with airbag manufacturer Alva Sweden and extensive testing has been carried out to ensure the airbag provides the protection required. The development work around Hövding has resulted in a number of globally patented solutions.
The airbag is designed like a hood and made in an ultra-strong nylon fabric that won't rip when scraped against the ground. Hövding protects nearly all of the head, while leaving the field of vision open. The inflated airbag covers a much larger area than a traditional cycle helmet and is designed according to current accident statistics. The protection is greatest where it is needed most and the airbag provides extremely soft and gentle shock absorption. The pressure remains constant for several seconds, making it able to withstand multiple head impacts during the same accident. After that the airbag slowly starts to deflate. The gas inflator that inflates the airbag is placed in a holder in the collar on the cyclist's back. Hövding's gas inflator is a so called cold gas inflator that uses helium.