Maison de la paix. Lecture with Peter Maurer President, International Committee of the Red Cross. (ICRC).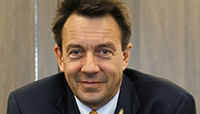 Humanity. Genève, octobre 3, 2014. The evolving global environment in which humanitarian actors operate is posing profound challenges both in terms of complexity of major crises and their impact on affected people.
Taking in consideration this environment, the ICRC, with its track record of a 150 years of humanitarian practice, has to consider how to address these challenges while remaining faithful to its humanitarian principles, notably, Humanity, Neutrality, Impartiality and Independence.
On the occasion of this Graduate Institute Lecture, the ICRC will inaugurate a series of conversations across the globe on the contemporary challenges to principles guiding humanitarian action, leading up to the 32nd International Conference of the Red Cross and Red Crescent in Geneva in December 2015.