Let's Use the UN in Geneva for Practical Journalism Training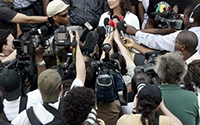 Global journalism is taught in New York, Örebrö, Toronto, Sheffield, Karachi, Rhodes (South Africa)… The Reuters Foundation, BBC, Media Action, Internews and countless other organizations practice it in the field. In Bonn, the Deutsche Welle trains journalists from the South, and organizes an annual global Media Forum, which is very well attended.
Nothing like this exists in Geneva despite the fact that it is here that the planet's emergencies are directly managed in real time. Climate change, human rights, the internet, migrations, catastrophes, health emergencies, the green economy, employment, commerce and disarmament are handled by 32 international organizations, 470 NGOs, and 50,000 global citizens, experts, diplomats, activists, humanitarians, lawyers, financiers, merchants, traders, spies create tomorrow's world out of sight of the public.
The few dozen correspondents camped at the Palais des Nations rarely get the chance to explore this unique vivarium. It is hard to sell Geneva to journalists who are not very excited by the institutionalism of the UN, but are not given the resources needed to dig deeper. It is a vicious circle. The UN often delivers its hottest news in London, Brussels or New York. Aside from Reuters, AP, AFP, EFE, the major news media have nearly all deserted the costly city by Lake Leman.
Only determination can lead to a new narrative for International Geneva. And if the Fourth Estate could make itself a mediator of the major challenges to humanity? And if Geneva were the ideal place for hundreds of talented reporters from the five continents to work in this global vista, that they could transmit to others when they are back home? In interaction with researchers and actors, to make it clear to everyone on earth what is happening to us, and what is holding us back?
Swiss and foreign universities, schools of journalism, media, humanitarian agencies, foundations, the UN and Swiss authorities would make Geneve more dynamic in creating a channel for practical training at the Palais (6-12 months), setting up a website for information immersed in a fabulous cornucopia of knowledge and solutions, investigations and interviews. Grants and fellowships would be framed by experienced correspondents assigned to the UN, with as a result: global actors and challenges rendered more visible, a more attractive coverage of UN activities and those outside the UN, a brighter Geneva relaunched, a global network of alumni motivated. Who wants to accept the challenge the first?
Daniel Wermus