Movies. How 'Star Wars' could become Disney's next cash cow
DEEP POCKETS. When Walt Disney Co. put up $4 billion to buy « Star Wars » creator Lucasfilm in 2012, Wall Street wasn't sure it was a good bet. To some analysts, it seemed like a lot of money to pay for a company whose signature movie franchise had gone on hiatus following a trilogy that underwhelmed fans and ended seven years earlier.
« I remember when it happened, thinking, 'Wow, what are they buying?' » JPMorgan analyst Alexia Quadrani said. « It was going to be several years before we'd even see the first film from that company. »
Three years later, Quadrani and other analysts think that Disney got a bargain.
« They will make back their investment in a relatively short period of time, » said Robin Diedrich, an analyst at Edward Jones Research. « Whether it is three or four years — you can see that being a pretty reasonable scenario. »
« Star Wars: The Force Awakens, » which opens Friday, is expected to earn $1.5 billion to $2 billion in global box-office returns.
Four more films will roll out over the next four years. Add up all of those box-office receipts, plus merchandise, video games, theme park tie-ins and DVD sales, and the revenue tied to « Star Wars » could top $25 billion over the next five years, based on analyst estimates.
How much of that Disney will pocket is hard to calculate. Disney has not disclosed its own revenue projections for the films, nor has it said how it divides revenue with retailers, exhibitors, toy makers, video game developers and other partners.
Beyond the direct income, however, « Star Wars » breathes new life into Disney's already mighty corporate empire, giving it new content and characters that it can pump through its many ventures. And it couldn't come at a better time, with changing consumer habits buffeting the company's lucrative television business.
Few companies have the breadth of businesses — theme parks, TV networks and a chain of retail stores — that Burbank-based Disney boasts.
« We know how to leverage or mine value from [intellectual property] probably better than any media company out there, » Disney Chief Executive and Chairman Robert Iger told The Times in an interview earlier this year. « And we have the ecosystem to do it, worldwide. »
Here are some key areas that stand to gain the most from « Star Wars. »
Film
« The Force Awakens » is expected to pull in $175 million to $250 million in the U.S. and Canada — and that's just in its opening weekend. That would be unprecedented for a film premiering in December: The record holder for the biggest opening during the month is« The Hobbit: An Unexpected Journey, » which took in $85 million in domestic receipts.
An opening in the range of $200 million could put the film on a path to a $2-billion gross, a plateau reached by only two pictures: 1997's « Titanic » and 2009's « Avatar, » both by director James Cameron's Lightstorm Entertainment. Analysts estimate that « The Force Awakens » and the four successive films could generate $5.5 billion or more at the box office.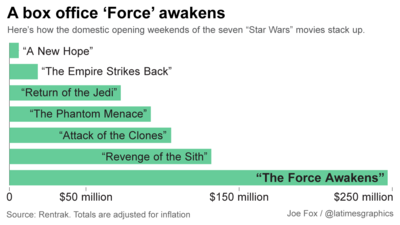 « The Force Awakens » was directed by J.J. Abrams and stars series newcomers John Boyega, Oscar Isaac and Daisy Ridley alongside veterans including Harrison Ford. It follows three prequels released from 1999 to 2005, which disappointed many fans, tarnishing the franchise in some devotees' eyes.
At least some analysts were skeptical of Disney's Lucasfilm acquisition because the company wasn't getting a key asset: the original 1977 « Star Wars » film. Theatrical and home video rights to that movie are held in perpetuity by 20th Century Fox. That company also retains rights to « The Empire Strikes Back » and « Return of the Jedi » until 2020, at which point they revert to Disney.
« That was one of the concerns that we had — it was, what are they actually buying if they are not getting that [original] film? » Quadrani said. « There was a concern Disney was putting all of its eggs in one basket — everything was hinging on if the company could make a successful new 'Star Wars' film. Now, however, given the trailer, all of the buzz and the huge merchandising hype we've heard about, there is definitely a positive bias that this will turn out to be a great acquisition. »
Merchandise
« Star Wars » already is a dominant force in the retail world, filling store shelves with action figures, backpacks, video games and more merchandise.
Analysts predict merchandise sales tied to « The Force Awakens » will range from $3 billion to $5 billion in the first year. And after five years, the total could be in the $11-billion to $20-billion range, experts say.
The shopping extravaganza got off to a strong start in September with Disney's so-called Force Friday, which saw the release of about 500 items the day after the company conducted an 18-hour online event that was meant to generate buzz.
Consumer products consultant Lutz Muller said « Star Wars » is « probably the single biggest toy sales generator ever, » and Disney's new offering has been « the most comprehensive roll-out » he's seen.
That's important, Muller said, because a hit film doesn't guarantee its corresponding consumer products push will be a success. He noted that « Avatar » and Disney's « Alice in Wonderland » — both of which grossed more than $1 billion at the box office — left money on the table by delivering « not well-executed toys. »
But he said that Disney's merchandising plan for « Star Wars » has been « excellent » — comprehensive in its scope and including many high-quality products.
« It is definitely outstripping any other license I have seen so far, ever, » said Muller, chief executive of Klosters Trading Corp.
Disney and major « Star Wars » licensee Hasbro declined to disclose sales figures for the new « Star Wars » merchandise.
The retail success of Disney's « Frozen, » the top-grossing animated picture of all time, could illustrate how « Star Wars » will perform in the company's hands. Two years after its release in theaters, « Frozen » is still paying dividends for Disney's consumer product arm: The film's merchandise sales were credited with helping boost the division's operating income 10% to $416 million in the quarter that ended Oct. 3.
A new « Star Wars » video game developed by Electronic Arts already is one of the holiday season's most popular items and should give a boost to Disney's interactive business, which was recently merged with the company's consumer products division.
« Star Wars Battlefront, » which was released in November on multiple platforms, is expected to sell 13 million units by the end of 2015, said Michael Pachter, analyst for Wedbush Securities. That translates to about $785 million in revenue, he said, of which Disney could keep in the range of $80 million to $100 million.
Also, the third iteration of the « Disney Infinity » action-adventure video game, which incorporates physical toys into the on-screen action, includes a « Star Wars » edition. Other games are expected to follow.
Theme parks
Disney's theme parks also stand to benefit from an infusion of new « Star Wars » attractions and rides.
The company's 11 parks draw millions of tourists annually. To keep the visitors coming, and to compete with rival Universal Studios, Disney must continually refresh its properties with new features. The parks and resorts division remains key to its bottom line, generating nearly one-third of the company's revenue during its fiscal year that ended Oct. 3.
Earlier this year, Disney unveiled plans for « Star Wars »-themed lands that would open at Disneyland and one of its Florida theme parks in several years.
Those two 14-acre « Star Wars » areas will significantly beef up the presence of the franchise at its parks and resorts, which are already home to popular « Star Tours » attractions.
The addition of « Star Wars » attractions to Disneyland and Hollywood Studios at Walt Disney World Resort in Orlando, Fla., could drive a new generation of visitors to those properties. Disney has not said when the attractions will open, although the projects are scheduled to break ground next year.
Television
The release of the new « Star Wars » film could also prove a salve for Disney's television business, which has been hurt by cord-cutting and other changes in the media landscape. Last summer, Nielsen Media Research said that ESPN had lost about 3 million subscribers over the last year, which sparked a sell-off of media stocks on Wall Street in August.
« If growth is sputtering out, you need something to help smooth out that transition, » said Scott Krisiloff, chief investment officer at Avondale Asset Management, which is not an investor in Disney. « 'Star Wars' can definitely play that role. But I don't think — even if 'Star Wars' is a huge smash — it can overwhelm the potential negative head winds of ESPN. »
Disney's media networks division, which includes television network ABC and cable channels ESPN and the Disney Channel, is the company's most lucrative business. And « Star Wars » is already helping this division: An animated show, « Star Wars Rebels, » airs on Disney XD and was recently renewed for a third season. But analysts say it's possible there could be more in the pipeline, if Disney's Marvel strategy is any indication.
After Disney bought the comic book company in 2009 for $4 billion, it began releasing a series of successful superhero films, among them « The Avengers » and « Guardians of the Galaxy. » More recently, it has rolled out several live-action TV series that are populated by secondary characters from the Marvel cannon, among them the ABC hit « Agents of S.H.I.E.L.D. »
Disney could emulate that strategy with « Star Wars, » Diedrich said.
« If the movie does well, that would be the game plan, » she said. « It is a pattern that they would want to follow given the success they've had with Marvel [on TV]. »
Of course, for all that money to be minted, « The Force Awakens » needs to be a smash hit.
« The success of the four successive iterations of this title are really dependent on how well this one does and how well it is received, » said Paul Dergarabedian, a senior media analyst at Rentrak, which does media measurement and research. « This title … really sets up the whole future. It is really important that this movie deliver on so many levels, both in terms of fan reaction and critical reaction. »