Think, Eat, Save: UNEP, FAO and partners launch global campaing to change culture of food waste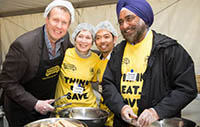 UN. Early 2013. Consumers, Food Industry and Government All Have Role to Play in Reducing 1.3 Billion Tonnes of Food Wasted or Lost Each Year. Food Loss refers to food that gets spilled, spoilt or otherwise lost, or incurs reduction of quality and value, before it reaches its final product stage. Food loss typically takes place at production, postharvest, processing and distribution stages in the food supply chain.
Food Waste refers to food that completes the food supply chain up to a final product, of good quality and fit for consumption, but still doesn't get consumed because it is discarded, whether or not after it is left to spoil. Food waste typically, but not exclusively, takes place at retail and consumption stages in the food supply chain.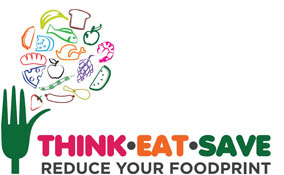 Think.Eat.Save. Reduce Your Foodprint
Visit www.thinkeatsave.org for more information on the campaign.
SAVE FOOD Initiative
SAVE FOOD the Global Initiative on Food Losses and Food Waste Reduction is a partnership between companies and organizations worldwide to reduce the estimated 1.3 billion tonnes of food that is lost or wasted every year. For more information and facts and figures on food waste and food loss, visit: http://www.fao.org/save-food/en/
Photo Gallery 'One Third' by Klaus Pilcher:
One Third uses images to describes the connection between individual wastage of food and globalized food production:
WRAP
Wrap is a non-profit organization funded by all four UK governments and the EU, and aims to help people recycle more and waste less. For more information, visit: http://www.wrap.org.uk
Feeding the 5,000
Feeding the 5,000 organizes events where meals made from food that would otherwise have been thrown out are distributed free. For more information, visit: http://www.feeding5k.org
Related Reports, Facts and Figures
UNEP discussion paper on the role of global food consumption patterns in sustainable food systems
The work of UNEP's Resource Efficiency Programme on Agri-Food
For outreach and to join the campaign, please contact:
Lucita Jasmin, Head of Special Events, UNEP
+254 20 762 3401
lucita.jasmin@unep.org
For more information, please contact:
UNEP
Nick Nuttall, UNEP Spokesperson and Head of Media
+41 795965737, +254733632755
nick.nuttall@unep.org
UNEP Newsdesk (Nairobi)
+254 20 762 5211
unepnewsdesk@unep.org
FAO
Erwin Northoff
(+39) 348 25 23 616
erwin.northoff@fao.org
Charmaine Wilkerson
(+39) 06 570 56302
charmaine.wilkerson@fao.org