Turn a camera on Our camera: The second Collide@CERN-Geneva prize is awarded to a film maker
Culture. Geneva, 16 October 2013. CERN and the City and the Canton of Geneva awarded in march 2013 the second Collide@CERN-Geneva prize to the 47 year-old film maker Jan Peters, for his proposal to explore the world of CERN from a highly personal perspective.
Jan Peters has divided his time between Switzerland and his native Germany for many years. An artist and film maker, he is known particularly for personal documentaries charting his own life, and his films have won prizes at festivals around the world. During his residency at CERN, he intends to address the links between science and art, politics and philosophy. « My questions are very similar to those of physicists, who are passionate about the same central issues such as the meaning of life », he explained in his proposal.
In awarding him the Collide@CERN-Geneva prize, the jury recognised Peters as « an author who makes profoundly personal films that probe and dissect reality. CERN's science and environment will become his new field of research ».
« We're delighted to announce our fourth artist-in-residence in the framework of the Collide@CERN programme », said CERN Director-General Rolf Heuer. « We are very much looking forward to seeing his work and the new insights he will bring into our Laboratory, just as the previous winner of the Collide@CERN-Geneva prize, the choreographer Gilles Jobin, did ».
Peters is expected to take up his three-month CERN residency now. He is the second winner of the Collide@CERN-Geneva award, which is part of a three-year partnership between CERN and the City and the Canton of Geneva. He will choose a scientific partner who will provide him with inspiration throughout his residency. They will have their own blog, which will allow the public to follow the creative process.
Like his predecessor Gilles Jobin, Peters will also organise artistic events for the CERN personnel. He will have an office on the CERN site and he has gived today a joint lecture with his scientific partner Neal David Hartman in the Globe of Science and Innovation and will do again at the end of his residency. The residency is funded by the City and the Canton of Geneva in partnership with CERN. The insurance of all artists participating in the programme is sponsored by UNIQA SA.

Jan's little black book: a very busy day….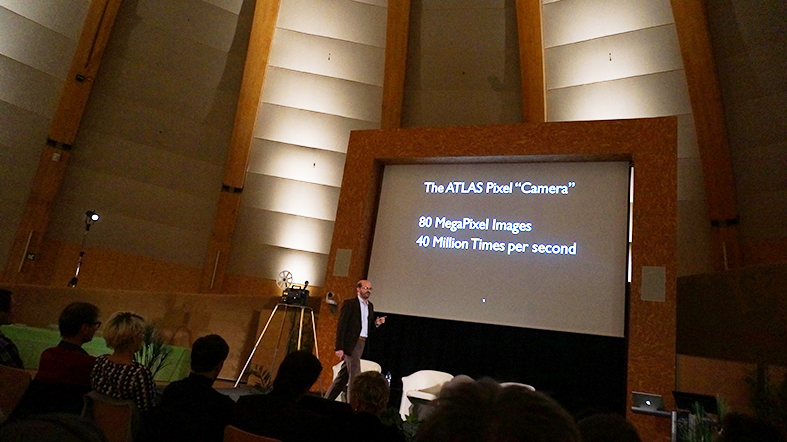 Neal David Hartman presentation.